Have your allergies been acting up lately?
Have you noticed more pet dander around your home?
Do you have young children or people with weakened immune systems living with you?
Are you just concerned about the kinds of toxins you could be breathing in?
All of these reasons are why you should invest in home air purifiers. However, with so many options on the market today, it can feel almost impossible to know which one you should choose.
In this post, we'll give you the straight talk on some of the top rated home air purifiers of 2020. Read on to learn how the right home air purifiers can help you to breathe easily again.
Top Rated Home Air Purifiers
The Winix PlasmaWave 5500
Especially if you're looking for home air purifiers capable of cleaning rooms as large as 360 square feet, it's tough to find a better model than this Winix PlasmaWave.
It's also known for its smart sensor feature, which actually adjusts itself according to the air quality of the room you put it in -- giving you the cleanest air possible while also conserving energy when high output levels aren't necessary.
This is also a great option in you live in a home with a smoker, as it contains a washable carbon filter designed to banish that smoky smell once and for all.
However, what really makes this model unique is the patented PlasmaWave technology. While ionized air purifiers are effective, they may also emit higher ozone levels.
PlasmaWave cleans your air without the potentially harmful side effects.
Additionally, PlasmaWave technology uses a HEPA filter that will get over 99% of allergens, dust, and dirt out of the air in your home. It also works to remove things like viruses, bacteria, and more -- and it does it all without aggravating your asthma or allergies.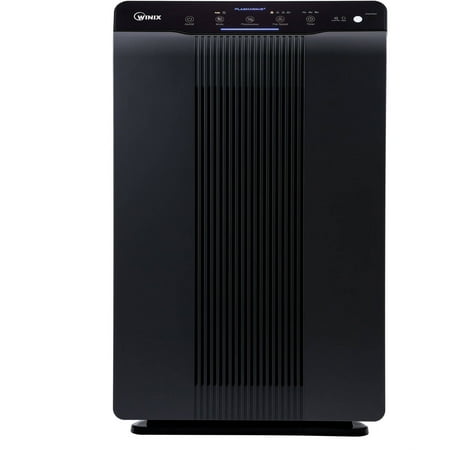 -38%
in stock
Last update was on: April 3, 2020 10:06 pm
Winix Air Cleaner will help keep the air in a home or office clean and smelling fresh. The Winix 5500-2 Air Cleaner replaces the wildly popular 5500-2 model. The Winix Air Cleaner 5500 is designed for any indoor environment and is ready to capture dust, pollen, pet dander, smoke, mold spores,...
What makes this model one of the best room air purifiers of the year?
For starters, it's hard to beat the fact that it's completely customizable. You can choose from four different types of HEPA filters, including ones for allergies, asthma, pet dander/odors, and smoke/other chemicals.
In short?
Whatever the main problem with your air quality is, this filter will help you to target and fix it specifically.
Those who like a bit of style with their home air filters will also love the fact that there are 14 different panel options, including stainless steel and natural maple. Like the above model, the Alen BreatheSmart also comes with a sensor that actively measures the pollutant levels in your space, and adjusts itself accordingly.
It works to clean rooms up to 1,100 square feet in size.
Of course, all of these features do mean that it's a bit more expensive, close to $700. Some users say that the sound of the filter can be a bit louder than they expected.
1 new from $299.99

1 used from $224.99

Free shipping
in stock
Last update was on: April 5, 2020 5:18 am
CLEANS AIR FAST: Cleans 700 SqFt every 30 minutes, twice as fast as key competitors on Turbo speed. Sleek design fits in any space from small to extra large bedrooms, living rooms, offices, nurseries, kitchens, and basements.
TRAPS ALLERGENS AND POLLEN: Recommended for dust, dander, allergens, fur, and household odors. Helps relieve allergy and asthma symptoms including runny nose, congestion, shortness of breath, and sneezing
AIRMEGA 300S Smart Air Purifier
Looking for purifiers for the home that you can control fro your smartphone?
If so, then we know you'll love this AIRMEGA Smart Air Purifier, which fully embraces the power of smart home technology. It's even able to monitor your air quality in real time so that you get updates about the air quality in your room as it's being improved.
It uses two different kinds of filters, Activated Carbon and True HEPA. This means that it can grab about 99% of VOCs and over 99% of other pollutants in the home.
Since this purifier can get rid of NH3 and CH3CHO fumes, it's one of the top rated home air purifiers on the market today.
You'll also be able to enjoy five different fan modes — all of which are on the quieter side. You can set the purifier on a time that ranges from 1-8 hours.
Of course, all these features add up — so expect to pay close to $650 for this option. Some users complain that the new app can be a bit slow to load and tough to connect to WiFi.
4 new from $515.33

4 used from $413.25

Free shipping
in stock
Last update was on: April 5, 2020 5:18 am
Coway Airmega 300S is designed to accommodate large room sizes up to 1,256 square feet and cleans the air at least two times per hour when used as recommended.
Airmega Max2 filter-combined activated carbon and True HEPA filter-captures and reduces up to 99.97% of 0.3 micron particles in the air, including pollen, pollutants and other allergens. It also reduces more than 99% of volatile organic compounds and reduces fumes such as NH3 and CH3CHO. It also includes washable and permanent pre-filter to catch larger dust particles
The Levoit Compact Air Purifier
Maybe you're interested in a home air purifier that's small but can still pack a big punch.
If so, then this is the model for you. You can even bring it with you when you travel, so it's ideal for those who may want to bring it to the office or even a hotel.
It has a three-stage filtration system for maximum purification made up of a pre-filter, an Activated Carbon filter, and the standard True HEPA filter. It also comes with a small nightlight that has adjustable brightness levels, meaning it's ideal for a child's room or a bathroom.
Of course, due to its size, it's best for smaller rooms — usually those up to 86 square feet.
2 new from $99.99

10 used from $74.99

Free shipping
in stock
Last update was on: April 5, 2020 5:18 am
Higher Purify Performance: Use the Core 300 to fill your environment with crisp, clean air. Its Vortexair Technology creates a stronger air flow, AHAM Certified CADR number is 230+m3/h, allowing it to cover up to 215 sq. ft. AC 120V/60HZ for USA and Canada
Improved Filtration: With larger expansion area and longer length than others, the HEPA filter works with ultra-fine Pre-filter and activated carbon filter, trapping 99. 97% of fine particles as small as 0. 3 microns and large pollutants such as pollen, dust, pet dander, smoke
Which of the Top Rated Home Air Purifiers Will You Try?
We hope that this post has helped you to decide which of the top rated home air purifiers on the market today is the right choice for you.
Want to learn more about the different kinds of filters used in the best air purifiers?Interested in reading more in-depth reviews of specific models? Are you thinking of getting a commercial air purifier to improve your business's indoor air quality?
We're here to help you with all of that and more.
Bookmark our page to ensure that you stay up-to-date with the latest air purification technology and products -- and feel confident in your buying decisions with our advice.